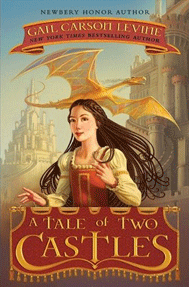 I have no hesitation on this one. I love Gail Carson Levine's work, and
A Tale of Two Castles
is no exception. Elodie heads to the city of Two Castles, where her parents believe she will apprentice herself to a weaver. Elodie, however, has other plans: she wants to become a mansioner (actor). Unfortunately, it's not until she's on her way that she learns that there are no more free apprenticeships, and the little bit of money she has is stolen by a cat shortly after her arrival.
Luckily for Elodie, she soon crosses paths with -- and then impresses -- Two Castle's resident dragon Meenore. Soon the two of them are entangled in politics and plotting, and trying to protect the shape-shifting Ogre, Count Jonty Om.
Cats and ogres -- there's only one fairy tale that springs to my mind, and yes, this is Levine's retelling of Puss in Boots. Although she follows the original tale in a way that's sketchy at best, she brings in plenty of the elements of it, and explores some of the trickier questions as well. As she says on her website, "I'm utterly won over that a cat threatens a bunch of peasants with cutting them up as herbs for the soup and they're scared."
If you liked
Ella Enchanted
or Levine's other work, you'll like
A Tale of Two Castles
. And if you haven't read any of her work, this is a fun one to start with. She's definitely writing on the lighter side of fairy tales, and the book is probably aimed at middle grade readers, so the writing isn't overly complex. It's a quick and enjoyable read.